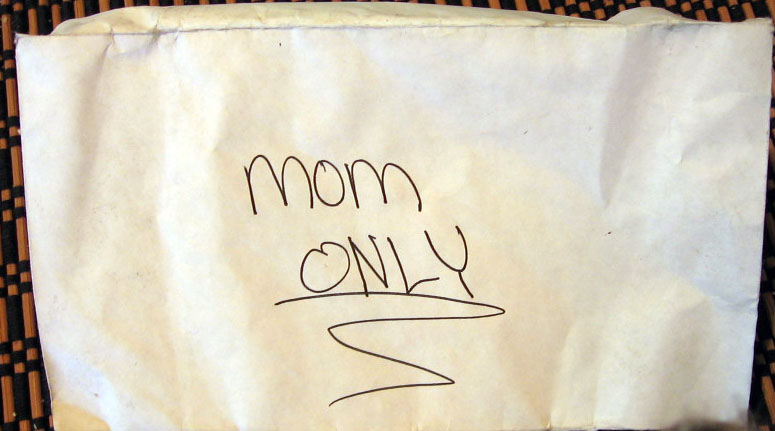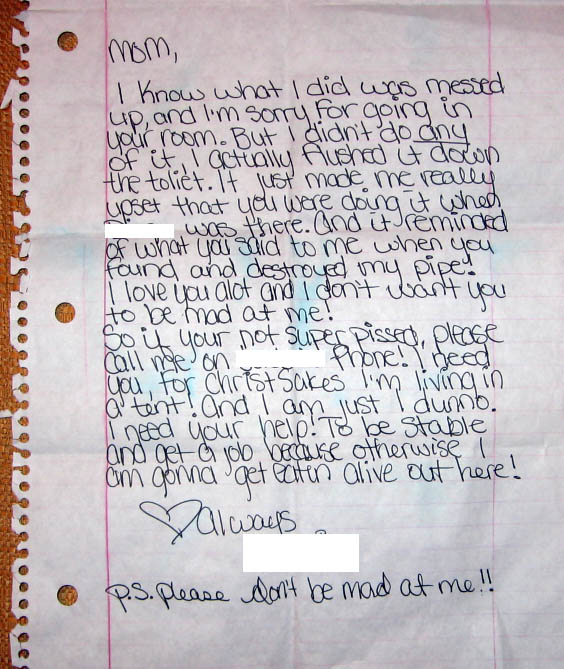 Audio clip: Adobe Flash Player (version 9 or above) is required to play this audio clip. Download the latest version here. You also need to have JavaScript enabled in your browser.
Hi,
Yesterday while I was riding my bike up Pattee Canyon here in Missoula I happened to glance over to the shoulder of the road and saw the words, "Mom Only" showing on an envelope that was half-buried in gravel. I don't usually stop riding my bike to check out garbage, but for some reason I did this time and was surprised to find the above note within the envelope. Finding the note is all the more strange considering that I found it near where I live, in Pattee Canyon, and there is a good chance this girl is living, or lived, in the forest somewhere near me. There is a magazine which collects found notes, pictures etc.. called, "Found"(www.foundmagazine.com), and I'm thinking about sending this one in.
I've been planning on posting this song by Can for quite awhile, but for some reason it has taken me longer to do so than I originally intended. This particular song, Yoodooright, is a favorite of a friend of mine and she cranked it up for me one day and knew I'd dig it. From Wikipedia:
Yoo Doo Right" is a song on Can's 1969 debut album, Monster Movie, which had been edited down from a six-hour improvisation to a mere twenty minutes. The song features a pounding, tribal-influenced rhythm section throughout, along with singer Malcolm Mooney repeatedly reading excepts from a love letter in an almost mantra-like manner. During the song he develops a frog in his throat.
bye,
Collin