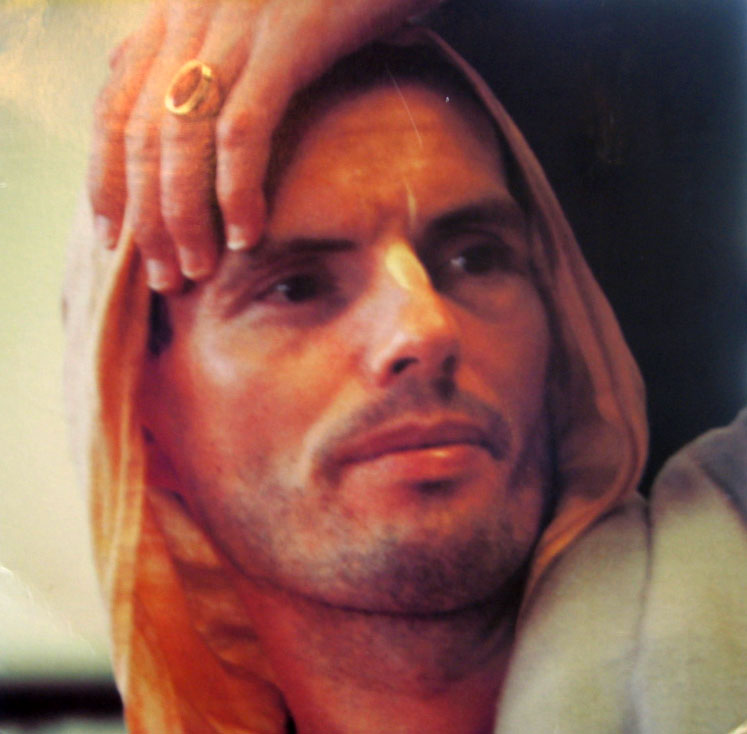 Hi.
I am going to hit you with a barrage of posts this week and this first one features an album that my friend Day (Vintage Vinyl Revival) lent to me the other week after I had heard a few songs off it. This album, "nothing to lose but all to gain", 1978, by Hansadutta Swami, has me somewhat hypnotized and I find myself putting it on over and over. It's strange, that is for sure, but there is something comforting, fascinating, and completely original in the country-like jams and warbling/rambling/repetitious vocals. Hansadutta was once a very important person in the Hare Krishna movement and this album is rich with lyrical references to Krsna and is performed by devotee musicians, so on its' own it stands as being unique. It's a shame that is has yet to be available on cd…the album has a very relevant and modern feel.
From the back of the album:
As one of the eleven gurus or leaders of the world-wide Hare Krsna movement, he lives a strictly controlled life as a celibate monk in the renounced order known as sannyasa. These songs, although sung in simple english language, run deep with spiritual meaning. They contain the essence of Vedic wisdom and are therefore not only very entertaining and pleasing, but they enlighten the heart of the conditioned souls. Unlike most popular singers of today, Hansadutta Swami lives a very simple and regulated life. He is a strict vegetarian, does not indulge in illicit sex, gambling or intoxication of any kind including tea, coffee, and cigarettes. Many of the songs on this album are done for the first time in the studio without previous rehearsal. The musicians playing with Hansadutta are all traveling monks and in making this particular album had not heard the words more than once or twice before going into the recording session. Hansadutta says, "these songs are kirtan – kirtan means spontaneous singing and dancing in praise of the Lord. There is no need to practice." He says, "If one feels love of God, love of Krsna in his heart, then whatever such a person sings will inspire in the hearer the same mood of loving devotion to Krsna."
Without a doubt my favorite tune on the album is "The Holy Name". It's 12-minutes long and consists of Hansadutta repeating couplets throughout. I copied the lyrics from the back of the jacket below, so read along if you'd like, it's somewhat hard to understand on a first listen. Collin
Audio clip: Adobe Flash Player (version 9 or above) is required to play this audio clip. Download the latest version here. You also need to have JavaScript enabled in your browser.
The Holy Name
Nothing to lose but all to gain,
You convinced the world to chant the Holy Name.
Dirty hearts and dusty brains,
You make the lowest men dance to the Name.
Spiritually deaf, dumb, blind and lame
You cure the multitudes with the Name.
Honor, dishonor, pleasure & pain,
Kicked out as worthless by this Holy Name.
Mad after Money, women, and fame,
Sometimes even I think of chanting the Name.
I have tried every trick and played every game,
But I cannot understand what is this Name.
Sun, snow, wind, hail and rain.
All times are good for chanting the Name.
Wife, friends and relations think us insane,
This is one result of chanting the Name.
Faster than a bullet or a speeding train,
You travel around spreading the Name.
You have bound me hand and foot with a chain,
The links of which are the Holy Name.
This shameful life and feeble refrain,
I offer you, Prabhupada, for the Name.
Falling before you like a wooden cane,
Bless me with attachment to the Holy Name.
Like a generous cloud that gives rain,
May I float thru the world spreading the Name.
Full of desire for profit and gain,
You have the medicine in the shape of the Name.
Falling before you like a wooden cane,
Make me take this cure of chanting the Name.